ISblue - Interdisciplinary graduate School for the blue planet
granted through the French Investments for Future Programme (PIA3) for 10 years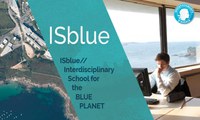 ISblue also includes the extension of LabexMER funding for another 10 years.

This interdisciplinary graduate school, of international level, will strengthen the link between a very high level of research and an extremely ambitious training programme.

The research program
will focus on 5 themes: ocean and climate regulation, ocean-Earth interactions, sustainable coastal systems, living ocean and ecosystem services, and long-term observing systems for ocean knowledge. It will push the frontiers of knowledge by setting up interdisciplinary research projects, hosting international post-docs, chairs and visiting professors, and support for actions at sea, in continuity actions initiated by the labexMER.

The training program
will be a flagship for higher education in marine science and technology in France and Europe. It will offer high-level interdisciplinary training in marine science and technology, from law to engineering, closely linked to research, and highly attractive to the best Master and PhD students worldwide. New curricula (eg coastal tourism, ocean data science) will be proposed. Students and lifelong learners will have a unique opportunity to build their personal learning pathway. The Ocean Projects Hub will provide project-based learning for students from universities and engineering schools, in close interaction with socio-economic partners.


In addition to IUEM and our historic partner Ifremer, already present in LabexMER, ISblue partnership is enlarged to include the French Naval Academy and three engineering schools (IMT Atlantique, ENSTA Bretagne and ENIB).